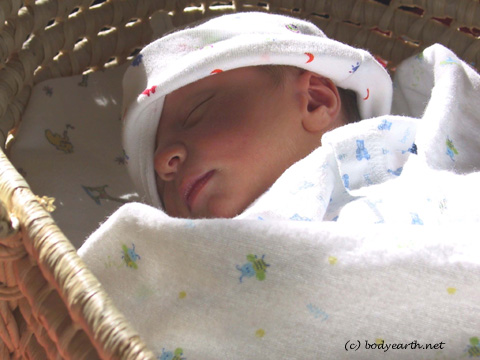 I saw the most delightful movie last night called, Babies.  It's a French documentary that follows the first year of life of four babies from different parts of the globe:  Namibia, Japan, Mongolia and the United States.  Child-rearing practices vary immensely from country to country, yet all four children thrive.
Here's the trailer:

The movie brought back bittersweet memories for me. Being a new parent can be really tough, especially when we push the boundaries of our culture's norms.
Our Story
When our son was a baby, we co-slept.  I remember going to the Mommies' Group meetings and being told that I didn't really need to "worry" about getting him into his crib until he was six months old.  At that point, I'd miss the magic window and it would be much harder to get him to sleep on his own.  I read legions of books on ways to teach babies to "self-soothe" and to be more independent: eat-play-sleep, for example, instead of play-eat-sleep, which seemed to be what Nature dictated every time he'd fall asleep nursing.
We did try to have our son sleep in a crib.  It just didn't work.  He craved body contact and we weren't tough enough to "cry it out."  We tried playing calming music (on a special baby CD player that attaches to the crib rail), sitting with him, singing to him, patting him — everything.  Somehow we knew that it wasn't going to fly with our baby.  I wasn't disappointed; I loved sleeping with my warm little bundle.
During the night our baby would wake up whenever he was hungry and I'd roll over to nurse him.  It was wonderful for both of us.  As he got older, people started to ask whether he was in his crib yet or if he was still nursing.  No and yes.  By the time he was two, I started preempting the questions by apologetically murmuring that he was still in our bed.  He was still nursing.  Somehow I was missing the boat on the independence that American children are supposed to learn.
Then I read a book that made me feel better.  Our Babies, Ourselves: How Biology and Culture Shape the Way We Parent
, by Meredith Small, is an anthropological look at baby-rearing customs around the world.  So many other cultures co-sleep!  Millions of toddlers are breastfed!  It's a fascinating book about ethnopediatrics, which points out the dual influences of biology and culture in baby care.  Small says:
Let's face it — mothers and fathers are molded by millions of years of evolution to do the right thing in raising babies.  We would not have survived this long as a species if this were not so.  And the fact is, babies thrive in a vast array of parenting strategies.  But these strategies are not simply a matter of opinion, tradition, or fact, but a complex mixture of culture and biology, and the way we raise our children does influence our adult behavior.  Ethnopediatrics aims to understand what makes us bring up our kids the way we do; and, with that understanding, to discover what is best for babies.¹
My Gratuitous Advice to New Parents
Do what feels right and try not to worry too much about the right way to take care of your baby.  For every book out there that tells you you're doing something wrong, there's another one that will tell you something else.  Either choose your books wisely, or avoid books altogether!
DON'T MISS FUTURE POSTS! Click below to subscribe for free in a reader or via email:
Sources:
1) Small, Meredith F. Our Babies, Ourselves: How Biology and Culture Shape the Way We Parent
.  New York:  Anchor Books, 1998.
Focus Features, Babies, 2010.