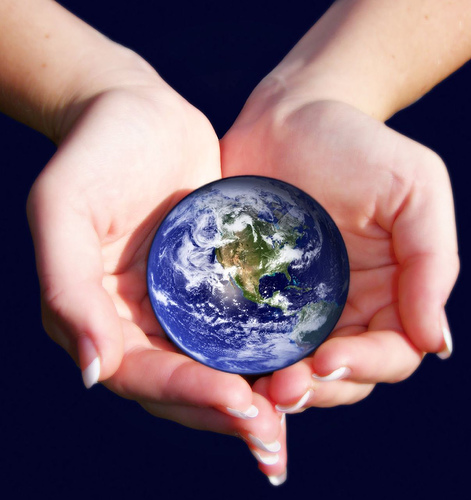 Photo Credit: Aussiegall on flickr
Last Saturday marked the fourth "Earth Hour," a World Wildlife Fund-led initiative to increase awareness about climate change.  For one hour (8:30-9:30 p.m local time) an estimated one billion participants all over the world turned off lights and electronics to take a stand for a cleaner, more secure future. 
On Saturday night I rushed my seven-year-old son home from dinner with friends to prepare for Earth Hour before the clock hit 8:30.  We hurried through his evening bath, shut down computers, turned off power strips and made sure our house was dark.  We read his bedtime book by flashlight.
It was a cozy little adventure, our way of telling the world that we care about keeping our planet healthy.  Much as I wanted to turn on the television to view images from around the world of people shutting off their lights, I refrained.  My husband was attending a conference in Mérida, Mexico, where Earth Hour would be observed two hours later.  I imagined a wave of darkness washing its way around the globe time zone by time zone.
When I later turned on the TV and scanned the channels to find news of this momentous event I found nothing.  Despite the lack of television coverage, the support for Earth Hour was huge.  I get inspired every time I visit the World Wildlife Fund website to watch the "before" and "after" photos of cities around the world showing their support.  Here's another really neat set of images — click on each one to watch the lights go out.  So many people care!
The next day it was once again bath time and I decided to quiz my son about what Earth Hour had meant to him.  He knew that we were doing something good for the Earth, but that was about it.  Feeling like I'd missed out on an incredible "teachable moment," I decided to remedy the situation and explain that we were sending a message to the world that we care about conserving energy and taking action to fight climate change.
We went on to discuss our dependence on fossil fuels; the concept of peak oil; clean, renewable sources of energy; global warming; pollution from coal-burning power plants; pros and cons of nuclear power; our home's electricity supply (from wind and hydro); how oil and coal are created; greenhouse gases; and why we even bothered to take part in Earth Hour.  Finally, I felt better.  Earth Hour had come one day late for us.
Photo Credit: