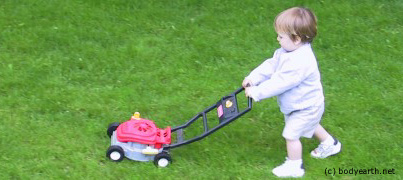 Spring is just around the corner and soon grass will be sprouting with abandon.  Much as we love those luxurious green carpets,  grassy lawns are not eco-friendly.  Grass needs water, which is often in short supply.  Fertilizers pollute and can be hazardous to health.  Keeping a lawn mowed often involves consumption of fossil fuels, contributing to greenhouse gas emissions.
Some sobering statistics from the National Wildlife Federation:
Approximately 50-70 percent of our residential water is used for landscaping, most of it to water lawns, which total approximately 20-30 million acres in the United States. And the U.S. Environmental Protection Agency (EPA) estimates that nearly 70 million pounds of active pesticide ingredients are applied to suburban lawns each year, helping to make polluted runoff the single largest source of water pollution nationwide, affecting ground water, lakes and streams, wildlife, and human health.  A 1995 EPA compilation of state data collected in 1994 showed that urban runoff contributed to damage in more than 26,000 river and stream miles. And the use of gas-powered lawn mowers contributes five percent of the nation's air pollution. A gas-powered lawnmower emits 11 times the air pollution of a new car.¹
How can we make our lawns more more environmentally friendly?
1)  Choose the right lawn mower.
Gas lawn mowers are environmental disasters.  Not only are they noisy, but they contribute to air pollution and soil/groundwater contamination (through spills and leaks of gas and oil).   The Neuton website did some calculations:
Using the Environmental Protection Agency's Non-Road Emissions Model, a gas mower used for 25 hours will emit the following each year:
87 pounds of CO 2 — the greenhouse gas Carbon Dioxide
48 pounds of CO — the poison Carbon Monoxide
5.6 pounds of VOC — Volatile Organic Compounds
0.25 pounds of NO x — Nitrogen Oxides
0.02 pounds of SO 2 — Sulfur Dioxide
0.02 pounds of PM — particulate matter linked to heart disease and lung cancer²
Better choices of mower
• The good old push mower! You'll get even more exercise mowing your lawn if you supply all the energy needed to move it across your yard.  Push mowers are an excellent choice for small areas of grass that you can keep on top of — once that grass gets too long, though, forget it!  You'll be going back over that same spot multiple times.
•  Solar-powered lawn mowers. You can read a review of this solar mower made by Free Power Systems here.
•  Electric lawn mowers. We've used an electric mower for a couple of years now, and are really happy with it!  It starts at the touch of a button and runs on a battery that charges in our basement when we aren't mowing.  It's also much quieter than gas-powered mowers.
While electricity is still required, it's usually from sources that don't pollute as much as the gas mowers do.  (We have green electricity in our house, which is generated from from wind and hydro sources.  Check for green power programs in your area.)
In our experience, you still need to keep on top of mowing when you use an electric mower, although Neuton says the new battery will power the mower in taller, wet grass.  For larger lawns, you'll probably need to buy two batteries that you can rotate, since you can only mow about 1/3 acre on a single charge.  This mower takes some getting used to and can be a bit heavy to push, but all in all we're really glad we made the switch.
See more information about the Environmental Protection Agency's community-based lawn mower buyback programs, such as this one in Portland.
2) Use your grass clippings as mulch or compost. Clippings left on the lawn are a great natural fertilizer because they release nitrogen as they break down.  The clippings also encourage earthworm activity, which is beneficial.
Commercial lawn chemicals can be hazardous to health.  See the trailer for A Chemical Reaction, a film about a Canadian town that passed North America's first ban on the application of weed- and insect-killers.
If you feel you must apply fertilizer, please read this article about natural fertilizers.  (Isn't it amazing that there's a use for corn gluten, a by-product of corn syrup production?)
3) Water wisely³.
To conserve water, water your lawn in the early morning. Watering in the evening can lead to mold formation and plant diseases.  Too much water is lost to evaporation midday.
Soaker hoses can be 50% more efficient than sprinklers.
A summer lawn only needs about one inch of water per week to stay green.
You can re-direct your rain water run-off by repositioning gutters and downspouts to flow into your lawn.  Or, collect your run-off in a barrel.
4) Adjust the blade on your mower to cut the grass higher. You won't need as much water and the higher grass (3-4 inches) will discourage growth of weeds.  Aim to cut one third of the blade.
5) Plant native species of grass when possible. You won't have as many weeds if you cultivate grass that grows naturally in your area.
6) Try Eco-Lawn, which needs mowing once a month (or not at all), is drought-resistant and doesn't need to be fertilized.
6) Consider a non-grass ground cover. In arid areas, you might want to choose plants or ground covers that don't require much water.
Of course, you could always do as they do in Dubai and go with a synthetic lawn!
Lawns aren't all bad!
Lawns absorb water, which helps reduce storm runoff and improve water quality.  Lawns also have a significant cooling effect, provide oxygen, trap dust and dirt, promote healthful micro-organisms, prevent erosion and filter rainwater contaminants.4
DON'T MISS FUTURE POSTS! Click below to subscribe for free in a reader or via email:
Sources:
1)  National Wildlife Federation
2)  Neuton Power
4)  EarthEasy: Natural Lawn Care.