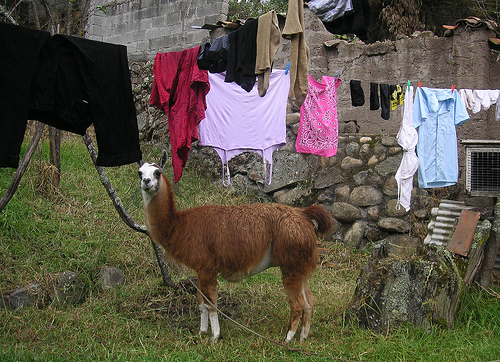 I came across the greatest website the other day:  Project Laundry List.  (They have a nifty blog, too.)
Did you know that in some places people aren't allowed to hang their laundry to dry?  That's right– It's considered too unsightly.  Many communities consider laundry hanging on a clothesline to be an "aesthetic offense."  In these times of energy conservation and heightened awareness about global warming, doesn't it seem ridiculous that people can't hang their clothes outside to dry?
Vermont thinks so.  In fact, they have passed a "Right to Dry" law that assures that all Vermonters can use outdoor clotheslines.  In fact, it was a Project Laundry List board member, Dick McCormack, who re-introduced the Right to Dry bill in 1999.  Vermont joins Florida, which already has a law that allows clotheslines everywhere.  Other states with varying levels of protection regarding clotheslines include Colorado, Maine, Hawaii and Utah.
As part of their Stop the Ban campaign, Project Laundry List is currently compiling a registry of places across the country (and the world) that don't allow public clotheslines.
Clotheslines are banned by tens of thousands of homeowners' associations nation-wide. Through a public airing of communities and landlords that prohibit the clothesline, we aim to encourage the use of the clothesline. We work with community activists to bring about a change in local policy.
Hanging your laundry to dry is super eco-friendly because it uses zero energy.  According to Project Laundry List, "Dryers use 10 to 15% of domestic energy in the United States!"

I wish we could hang our laundry out to dry more often.  I don't think any neighbors would complain, but we have to be careful certain times of the year because my son is pretty allergic to grass pollen.  He'd have a hard time breathing while sleeping if his sheets were hung out during allergy season!
Even if you can't put your wash outside to dry, you can use a  drying rack indoors.  If your clothes are particularly wet, you can always put them in the dryer for a few minutes before you put them on the rack.  Clothes dry quickly in the winter near a wood stove.  They also help to humidify the extra-dry air many of us experience in the colder months.
Project Laundry List suggests we wash our clothes in cold water.  I mostly agree, but I believe there are certain times when we should use hot water, such as when trying to rid clothes of dust mites.  (See my post other post about laundry.)   However, they also tell us that the sun acts as a natural disinfectant.
Hanging laundry out to dry isn't just great for the environment, it can be so beautiful!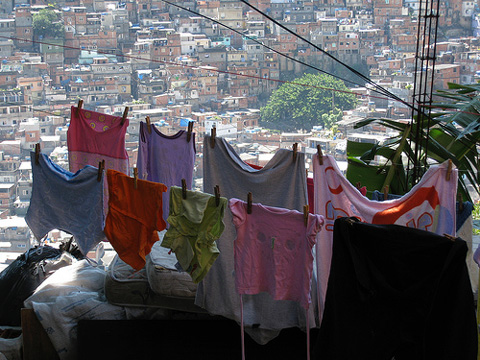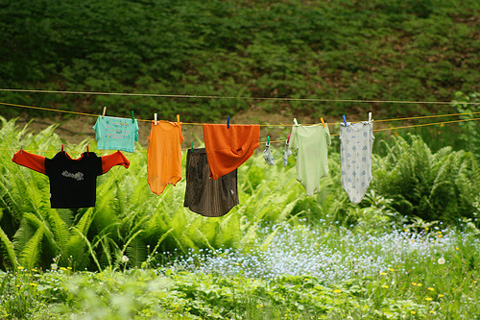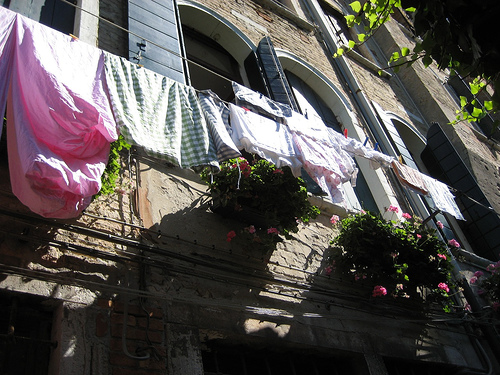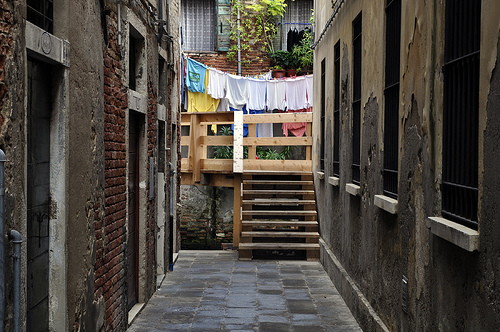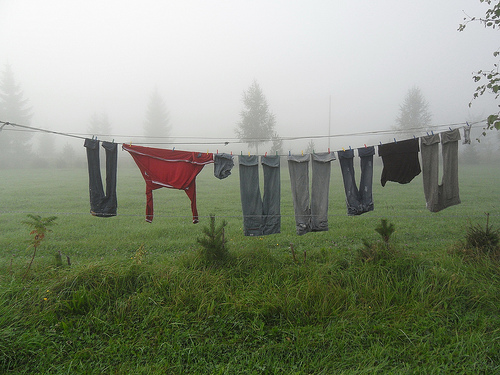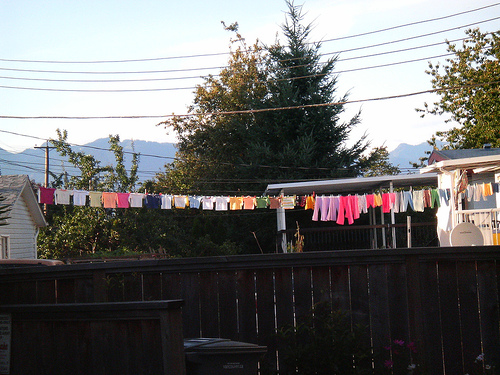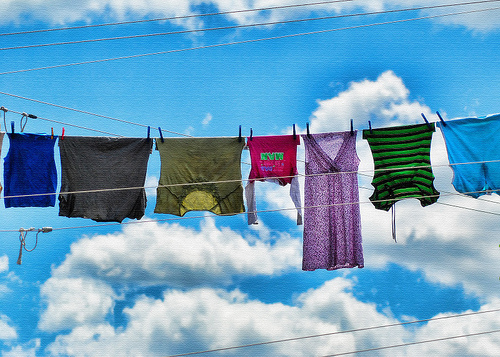 Source:  Project Laundry List
Photo Credits: