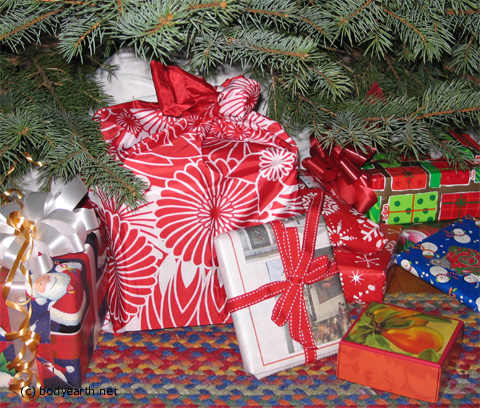 Happy Holidays!
As 2009 comes to a close, I thought I'd wrap it up with a few thoughts about wrapping paper.
Wrapping paper can be beautiful! It both conceals and decorates our gifts. However, it's often ripped off quickly only to be thrown into the trash. The Clean Air Council tells us: "In the U.S., an additional 5 million tons of waste is generated during the holidays. Four million tons of this is wrapping paper and shopping bags."
Luckily, there are many ways to keep it from piling up in our landfills.
If you've already wrapped your gifts, you can still reduce your impact on the earth:
Wrapping paper is now recyclable in many places! That's right, this is a relatively new development. Check with your local recycling facility first. In our area, we can't recycle any paper with foil, metallic inks or glitter.
Save any nice looking pieces of gift wrap, gift bags, pretty boxes, ribbons and bows for another celebration.
If you're like me and are scrambling to get things done, check out these options:
Homemade wrapping paper is fun to make and gives gifts a special look. Kids love to draw pictures on recycled paper, newsprint or old paper bags. The wrapping can be recycled later.
Even presents wrapped in old newspaper can be made more fancy when they're tied up with a real ribbon or decorated with a piece of evergreen. You don't even need to use the Sunday comics.
Try old posters or magazines for a change. Tear a page from an old calendar.
Buy recycled wrapping paper.
The Japanese give gifts tied up in a scarf. The wrapping is pretty and can be re-used. Plus, you save trees!
My friend makes wonderful little drawstring gift bags from cloth. They can either be given along with the gift (for the next person to reuse) or kept in the family for celebration after celebration. It makes gift-wrapping much quicker!
Need a cat toy? Roll up a ball of wrapping paper! Okay, I'm stretching…
Thanks for a wonderful few months with BodyEarth. I'll see you in 2010!