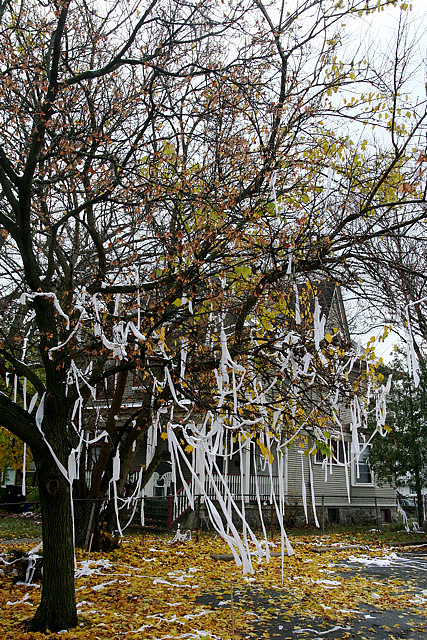 Every Halloween our town's trees are decorated with beautiful (note sarcasm) strands of wispy toilet paper. What All Hallows' Eve would be complete without the often soggy cleanup the next day? Well, I have some great news! Next Halloween, toilet papered trees just might be greener than ever.
Earlier this week Kimberly-Clark introduced its new Scott Naturals Tube Free toilet paper. According to K-C, American households use an estimated seventeen billion cardboard toilet paper tubes yearly, adding up to 360 million pounds of cardboard.  Unfortunately, more than 85 percent of households usually throw the tubes out instead of recycling them.  The new toilet paper roll is supposed to be good to the last sheet, with no added glue.  Now, if toilet paper manufacturers could use more recycled paper (BPA-free, of course), we'd be all set.
The downside? Preschools across the country will mourn one of their most treasured raw materials for art projects.
Happy Halloween!
DON'T MISS FUTURE POSTS! Click below to subscribe for free updates delivered to your email or RSS feed:
Photo Source:  stevendepolo on flickr