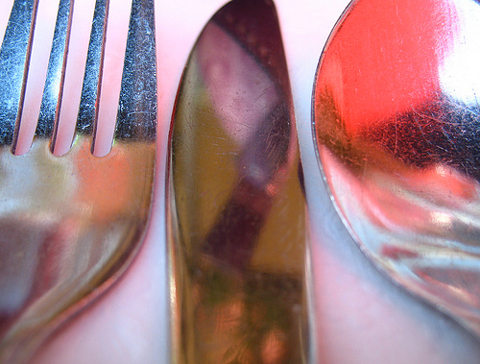 Friends can look pretty horrified when I take out the whole milk, slather butter on my bread and liberally pour heavy cream in my coffee.  I've been caught soaking my oats before cooking them and using sprouted wheat flour in my waffles.  On the other hand, I pooh-pooh so-called "healthy" vegetable oils such as canola, sunflower, and safflower and have turned up my nose at soy milk.
Where do I get my crazy ideas about nutrition?
I certainly am not turning to the USDA Food Pyramid for guidance.  And, I'm not in the majority.  But, I am part of a growing awareness of where our food comes from, what's in it and how it really affects our bodies.  I don't mean to sound snobby: I certainly had no idea a few  years ago that vegetable oils and low fat dairy products could be harming my family's health.  They're supposed to be good for us, right?
It's only through really digging that I've come to believe that science shows our ancestors had it right.  The reduced-fat, engineered, and highly-processed foods of the modern diet are causing our demise!
I don't blame people for being skeptical of my beliefs when I eat so differently from what is recommended by the Powers that Be (the AMA, USDA, The American Heart Association, the American Diabetes Association, and the vast majority of American doctors.)  Most of us are still taught that low fat is best, high fiber is key, and saturated fats are bad, bad, bad.  I beg to differ.
Where to learn more

I've had a lot of people ask me how they can learn more.   While I could easily supply a stack of books and dozens of links to excellent blogs, I know that people are generally quite busy.   So, after much agonizing, I've decided to recommend two books, two blogs, two websites and two movies that are well worth perusing!
2 Books:
Real Food: What to Eat and Why
, by Nina Planck.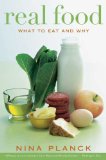 This is a fantastic overview of real, whole foods and why they are essential to good health.  Nina Planck writes for everyone, showing the science to back up how ancient foods are sustaining and essential, while modern, industrialized foods (like high fructose corn syrup) are to blame for modern disease of man.  This is a straightforward book, with easy-to-implement dietary changes.
Nourishing Traditions
, by Sally Fallon and Mary G. Enig, Ph.D.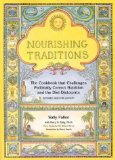 This is the book that "traditional foodies" use on a daily basis.  It's a cookbook full of recipes using ingredients that are prepared in traditional ways — such as nuts that have been soaked and dried or lacto-fermented vegetables. But, don't worry: Even if you're not yet ready to soak, sprout and ferment, the introduction contains a great summary of the different food groups, vitamins and minerals and how they've been co-opted  into what is considered "politically correct" nutrition.  The recipes also serve as a reminder of how far we've come from traditional ways of preparing foods.  You'll find great tips and facts in the margins of the recipe sections.
Two Movies: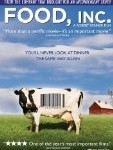 If there's one food movie you should see, this is it!  It's a horrifying look at agribusiness in the United States.  Topics covered include the inhumane treatment of animals used for meat and their unnatural diets, which result in diseases for the animals and the humans eating them.  See how "seed saving" by farmers can be a criminal offense.  Learn why it's cheaper to buy junk food than to purchase vegetables.  You'll never see your food the same way again.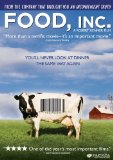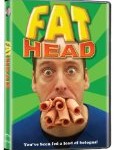 Fat Head was made in response to Super Size Me, a movie where Morgan Spurlock ate at McDonald's for a month while watching his weight balloon and his health plummet.  Fat Head spends the first half of the movie trying to show that Spurlock had it wrong: You can eat at McDonald's and lose weight, if you choose wisely.  The second part of the movie is of much more value — it's full of interviews with doctors and researchers about the science that debunks our current notions of what's healthy and what's not.  This is the movie I show to relatives who want to understand why I go against current diet recommendations.
2 Blogs:
This was tough.  There are so many excellent blogs out there spreading the word about real food and real nutrition.  So, I decided to fall back on the two websites that first caught my attention.  For me, they're the classics.
• Kelly the Kitchen Kop.  This is a fantastic blog by a super nice person!  Kelly is kind, thoughtful, welcoming and smart as she teaches us why we should eat real food.  You'll find loads of good recipes here, too.  Be sure to check out Kelly's post on milk.
• Cheeseslave.  Another amazing, patient, dedicated and really nice blogger, Ann Marie at Cheeseslave does an incredible amount of research to explain why foods prepared from traditional ingredients are essential to good health.  Anyone who loves cheese and cream so much can't be wrong, in my book!  Check out her new weekly podcasts.
2 Websites:
• The Weston A. Price Foundation
Weston A Price was a dentist who traveled the world studying the diets, health and teeth of traditional societies.  He found that although traditional diets varied greatly, the people who followed them were in excellent health and had remarkably good teeth and bone structure.  (Okay, I'm sneaking another book recommendation in here:  Dr. Price published his findings in Nutrition and Physical Degeneration
, a comprehensive look at the traditional diets of healthy people worldwide.)
• Mercola.com While Dr. Mercola sells a lot of products (he claims all proceeds go directly back into research for his website) he does offer up a constant stream of useful nuggets of health information.  I don't agree with everything he says, but he definitely gets me thinking.  I subscribe to his newsletter.
This post is part of Real Food Wednesdays, hosted at Cheeseslave.com today.
Note:  You may notice that I often link to books and products that I recommend.  You can read more about how that works here.
Photo Credit: