Update:   Giveaway is now closed.
BodyEarth is hosting its first giveaway!  One lucky person will win brand new copies of what I call my "starter books" — the ones that got me really interested in eating Real Food.  Until I read these two books, I was leery of eating too much of the butter and cream that I've always loved.  I felt guilty before digging into a meal of "heart attack on a plate" — you know, a gooey omelet and bacon.  Now I see food completely differently!
Here are the two books I'm giving away to the contest winner:
1) Nina Planck's Real Food: What to Eat and Why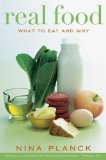 This book is a fantastic overview of real, whole foods and why they are essential to good health. Nina Planck writes for everyone, showing the science to back up how ancient foods are sustaining and essential, while modern, industrialized foods (like high fructose corn syrup) are to blame for modern disease of man. This is a straightforward book, with easy-to-implement dietary changes.
2)  Gary Taubes' Good Calories, Bad Calories: Fats, Carbs, and the Controversial Science of Diet and Health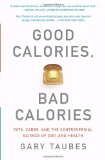 Good Calories, Bad Calories is an extremely well-researched book chock full of science and history lessons debunking the popular notion that fat calories are worse for our bodies than carbohydrate calories.  Taubes shows instead the dangers of a diet high in refined carbohydrates, like white flour and sugar, examining their links to several chronic health problems of modern society.
Here's what Taubes says in Good Calories, Bad Calories:
My hope it that this book will change our views of the nature of a healthy diet, as the research for it changed my own; that future discussions of the nature of a healthy diet will begin with the quantity and quality of the carbohydrates contained, rather than the fat.  As a challenge to the conventional wisdom on diet, obesity and chronic disease, however, it presents a dilemma to public-health authorities; to nutritionists and physicians who believe that the advice they have been giving for the past few decades has been correct and based in sound science; and to all of us who simply want to eat healthy but have trouble accepting that everything we have come to believe could be as misguided as I have portrayed it.
The Rules:
Unfortunately I can only ship within the United States, so this giveaway is open to U.S. residents only.  Also, please include your email address in the comment form so I can contact you — Your email address won't ever be published if you enter it where the form says, "E-mail."

1) To enter, leave a comment below telling me why you want to win these books.  For yourself?  A friend?  (Don't worry if your comment doesn't show up for a few hours.  I'm probably just away from the computer!)
2) The deadline to enter the giveaway is Monday, June 21, at 7 a.m. EDT.  The winner (one) of the two books will be drawn randomly from all eligible comments (i.e. with an email address!) and announced by Tuesday, June 22, 2010.
The giveaway is now closed.  I'll announce the winner soon!
Good luck!
Fine print:  I'm giving away these books because they have meant so much to me.  The authors and publishers in no way sponsored this post.  You must be 18 or older to play!
This post is part of Real Food Wednesday and Fight Back Friday blog carnivals!
If you enjoy BodyEarth, please consider signing up for free updates via RSS or email notification so you'll never miss a post!
You can also follow BodyEarth on Twitter.  If you're already on Twitter, please re-tweet this post!
Are you on Facebook?  Please join the BodyEarth Facebook page!
Photo credit: frankh on flickr