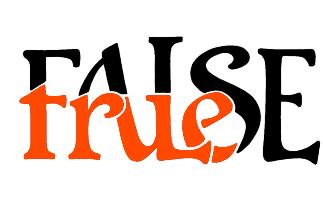 I love to play Devil's Advocate — just ask my husband.  When it comes to health and nutrition, I constantly challenge my own beliefs.  A few weeks ago The Huffington Post reprinted a slide show/article by EatingWell Magazine's Nicci Micco entitled, "6 Biggest Myths About Food Busted."  While I disagree with the author on several points, I was thrilled to see the number of comments she received.  Regardless of the readers' beliefs about each "myth," many commenters had done their research and supplied evidence to back their claims.  Scientific studies often contradict each other, but if we dig deeper and look at sample size; questions asked and answered; and the interpretation of the results, we can use our own judgment to validate a study's conclusions.  People are thinking.  They're taking their health into their own hands and not necessarily following the party line.
In the spirit of The Huffington Post piece, I'd like to offer my own list of health beliefs turned upside down.  Each of the authors I cite has done extensive research.  They are an impressive bunch of thinkers!  They offer different ways of looking at some health tenets that have been set in stone for several decades now.  A lot of this analysis is quite scientific, but well worth reading!  I know, I hate to click on links, too.  Trust me, in this case it's better to hear it from the horse's mouth, rather than in some lame recap that I might provide.  See what you think.
Health Belief #1: Dietary Cholesterol will Kill You.
I have several heroes of the cholesterol wars, but I'd like to point out one of my favorites:  Chris Kresser of The Healthy Skeptic goes through a compelling discussion about why a high cholesterol reading might be nothing to worry about.  Watch his videos to learn which heart disease blood markers we should monitor, instead.  He also tells us which tests will be more helpful, and where to get them.  Be sure to watch the second video!  It might just change the way you look at your bacon, eggs and butter.
I Have High Cholesterol, and I Don't Care (Part I) from The Healthy Skeptic on Vimeo.
And,
I Have High Cholesterol, and I Don't Care (Part II) from The Healthy Skeptic on Vimeo.
Health Belief #2:  A Plant-Based Diet is the Healthiest
For those of you not familiar with The China Study
, by  T. Colin Campbell of Cornell University, it has been a much lauded resource for anyone promoting a plant-based diet.  Campbell's multiple studies led him to associate a whole host of diseases of affluence (heart disease, diabetes, cancer) with consumption of animal products.  Here are some of the conclusions in a nutshell (from Cornell University):
Plasma cholesterol in the 90-170 milligrams per deciliter range is positively associated with most cancer mortality rates. Plasma cholesterol is positively associated with animal protein intake and inversely associated with plant protein intake.

Breast cancer is associated with dietary fat (which is associated with animal protein intake) and inversely with age at menarche (women who reach puberty at younger ages have a greater risk of breast cancer).

For those at risk for liver cancer (for example, because of chronic infection with hepatitis B virus) increasing intakes of animal-based foods and/or increasing concentrations of plasma cholesterol are associated with a higher disease risk.

Cardiovascular diseases are associated with lower intakes of green vegetables and higher concentrations of apo-B (a form of so-called bad blood cholesterol) which is associated with increasing intakes of animal protein and decreasing intakes of plant protein.

Colorectal cancers are consistently inversely associated with intakes of 14 different dietary fiber fractions (although only one is statistically significant). Stomach cancer is inversely associated with green vegetable intake and plasma concentrations of beta-carotene and vitamin C obtained only from plant-based foods.

Western-type diseases, in the aggregate, are highly significantly correlated with increasing concentrations of plasma cholesterol, which are associated in turn with increasing intakes of animal-based foods.

¹
Enter Denise Minger.  She's been the buzz of the blogosphere a lot lately due to her incredible response to Campbell's book.  She's also been slammed for being a non-scientist taking on the big guy(s).  And, boy has she!  In her exhaustive research into the heart of The China Study, she has managed to turn much of it completely upside down!
See whether you still believe what The China Study preaches after reading Denise's response.  It's really long, so you can also read the shorter posts on individual topics.
To hear Denise summarize some of the major points that grabbed her attention, listen to this podcast from Jimmy Moore's Livin' La Vida Low Carb show. Highly recommended.
Health Belief #3:  Sodium Nitrate-Preserved Meats Cause Cancer.
I've always taken this one as a given.  For years I carefully avoided preserved meats.  I even worried about eating too much spinach.  Then, we were told that vitamin C "deactivates" nitrates before they can form nitrosamines and cause us harm.  If we'd all just have a glass of orange juice with our bacon, we'd be fine.  While I still worry about the quality of most preserved lunch meats, Sandy Szwarc of Junkfood Science has made me question just how inherently bad dietary sodium nitrate is.    See her analysis here:  Does banning hotdogs and bacon make sense?
Okay, I'm off to enjoy some FOOD!
I'm sharing this post on Fight Back Friday, hosted by Food Renegade.
DON'T MISS FUTURE POSTS! Click below to subscribe for free updates delivered to your email or RSS feed:
Photo Credit:  correabeto on flickr
Sources:
1) "China Study II: Switch to Western diet may bring Western-type diseases," by Roger Segelken, Cornell Chronicle, June 28, 2001.
"6 Biggest Myths About Food Busted," The Huffington Post, September 17, 2010.
Raw Food SOS: Troubleshooting on the Raw Food Diet

Jimmy Moore's Livin' La Vida Low-Carb Show