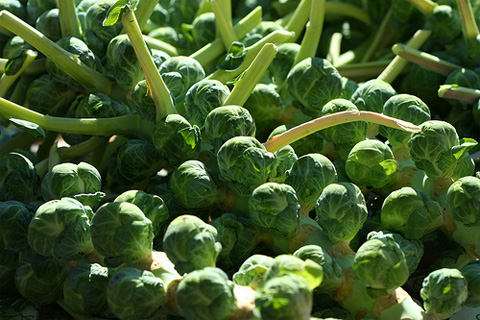 Brussels sprouts:  Some people love them and some people, well… not so much.  Give these Brussels sprouts a try. If you're already a Brussels sprouts lover, you'll be in heaven; if not, you might just convert.  While these dolled-up Brussels sprouts make a wonderful Thanksgiving side dish, they are also a great dinner vegetable all season long.
Ingredients
1 pound Brussels sprouts, bottoms trimmed (I used one stalk)
5 T butter, room temperature  (I used Kerry Gold)
2-3 tsp. Dijon mustard
2 T salted capers, rinsed well
2 cloves garlic, smashed to release the allicin
2 T minced parsley, chives or shallots
sea salt
Preparation
Rinse and trim outer leaves from the Brussels sprouts.  Cut the larger ones in half.  Score the bottoms of the whole, smaller sprouts with an "x."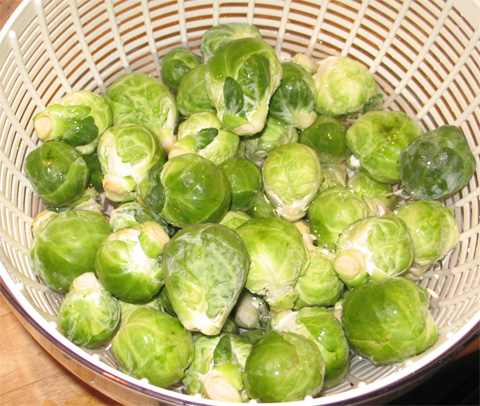 Put a large pot of water on the stove to boil.  While you're waiting for it to heat, combine the butter and mustard in a food processor, mixing well.  Add the capers and garlic and your choice of chives, parsley or shallots.  (If you prefer not to use a food processor, just be sure to chop the other ingredients well before adding them to the mustard butter.)  Mix until the ingredients are incorporated.  If you used unsalted butter, you can add some sea salt to taste at this point.
Add the Brussels sprouts to the boiling water and cook them until they are tender, 7-9 minutes.  Drain the sprouts and return them to the pot.  Add the butter mixture and stir to coat.
This post is shared on Real Food Wednesday, Simple Lives Thursday, and Fight Back Friday.
DON'T MISS FUTURE POSTS! Click below to subscribe for free updates delivered to your email or RSS feed:
Photo Credit:  John-Morgan on flickr
Recipe adapted from Deborah Madison.