When the temperatures heat up, spicy food can help cool us down. Some feel that the capsaicin found in hot peppers increases circulation, pulling the hot blood from our body's core and moving it to the skin, causing us to sweat and become cooler.  Craving peppers in this hot New England weather, I decided to try to recreate one of my favorite soups from a little restaurant nestled just in from the ocean in Northern California.
Duarte's Tavern, in Pescadero, serves the best cream of chile and cream of artichoke soups!  I have memories of making the agonizing choice before indulging in the obligatory slice of olallieberry pie. Here's my attempt at the Cream of Chile Soup:
Ingredients:
4 poblano or Anaheim chilies. (Both types of pepper can vary in heat.  My four poblanos were very hot.  If you find milder chilies, feel free to use many more than four, for more flavor)
1 T butter
2 cloves of garlic, crushed and chopped
1 small, or 1/2 large onion, chopped
4 cups chicken stock
2 cups heavy cream or whole milk (or a mixture)
sea salt to taste
cilantro or sour cream for garnishing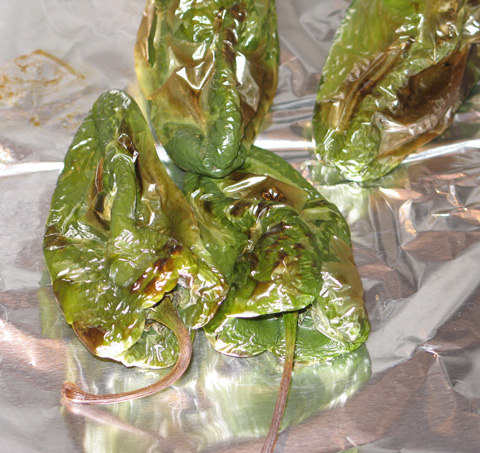 Roast the peppers. When I was lucky enough to have a gas stove, I used to hold them with a fork over a low flame until they were blistered all over. You can accomplish the same thing on a grill, or under a broiler in your oven. Watch the peppers carefully, turning them when blisters form on one side. When they are completely blistered, place the hot peppers in a paper bag and close it for about 15 minutes.
Wearing rubber gloves, hold each pepper under slowly-running cold weather to take off the skin. Open the peppers and wash the seeds out, being very careful not to touch your eyes with the gloves. Rough chop the seeded chilies.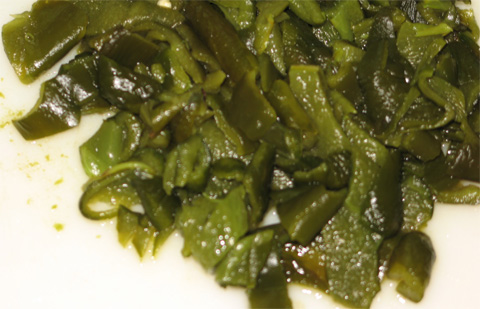 In a medium to large pot, saute the chopped onion and garlic in butter over low heat until they are soft. Add the chopped chilies and saute for a few more minutes. Add the chicken stock and turn up the heat, heating until it begins to boil. Turn heat to low and simmer for about 20 minutes.
Remove the soup from the heat and blend it for several minutes.  I used an immersion blender right in the pot, but you can also carefully pour the liquid into a counter-top blender. Return soup to low heat and add the milk, cream, or mixture of the two.  Heat just until the soup starts to simmer. Add salt to taste.  Ladle soup into bowls and garish with cilantro, sour cream, or Mexican crema.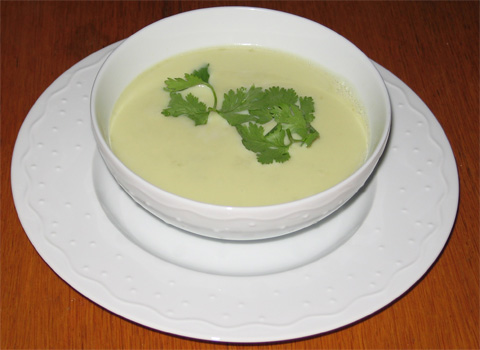 This post is part of Fight Back Friday, hosted by Food Renegade and Monday Mania, hosted by The Healthy Home Economist.
DON'T MISS FUTURE POSTS! Click below to subscribe for free updates delivered to your email or RSS feed:
Photo Credit:  niceness on flickr