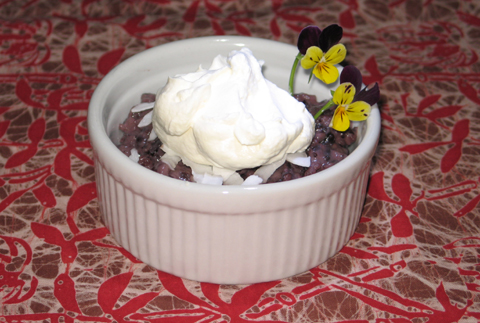 Years ago, when Jim and I were traveling in Bali, I ate a delicious dessert made of exotic black rice.  (Oh dear.  I sound like one of those well-healed jet-setters who used to write letters to Gourmet Magazine…)  Since that time, I've often thought of that rice pudding.  Yesterday I tried to recreate it and it was close!  It's made with whole coconut milk, which will solve all the world's problems.  Well, coconuts aren't quite that good, but they do have health benefits.
Forbidden Rice Pudding
1 cup forbidden (black) rice (or Thai sticky black rice)

1 13.5 oz. can unsweetened whole coconut milk
sea salt
1 tsp. vanilla
1/2 cup organic evaporated cane sugar
juice of 1/2 lemon
heavy cream (not ultra-pasteurized)
shredded, unsweetened coconut

Soak rice for several hours or overnight in filtered water and lemon juice.   Rinse the rice well and place it in a heavy pot.  Bring rice, a pinch of salt and 3 cups of water to a boil.  Reduce heat, put a lid on the pot and simmer rice for 45 minutes.   Stir in coconut milk, vanilla, another pinch of salt, and sugar.
Keeping the lid off, bring the mixture to a boil, reduce heat, and simmer for about 30 more minutes, stirring occasionally.  The mixture should thicken and the rice should be tender, but still chewy.
Remove rice from heat.  As it cools down, stir occasionally for about 30 minutes.   Serve warm or cool, topped with whipped heavy cream and shredded coconut.  Or, serve very warm, with heavy cream or more coconut milk poured on top.
This recipe serves 8-10 people.
(Recipe adapted from Gourmet Magazine, December, 2005.)
This post is part of Fight Back Friday, hosted by Food Renegade.