Fried squash blossoms are a summer favorite of mine.  The Italians got it right with this delicacy!
If you're lucky enough to grow your own zucchini, you're all set. The blossoms growing on the ends of the squash are the female ones. They should only be picked when the squash is ready eat, or it will stop growing. The male blossoms can be picked anytime, just leave a few for pollination.  Some farmers' markets carry squash blossoms.
Ingredients:
zucchini flowers
organic olive oil
unbleached flour for dredging

whole milk
sea salt and pepper to taste

optional: cheese slices or mixtures for stuffing the flowers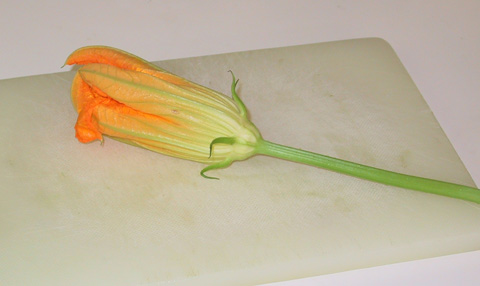 You will first need to cut off the stems of the male blossoms, or carefully pull the flower from the end of the squash if you are using female blossoms. Then, very gently open each flower and remove the stamen or pistil. Rinse the flowers to remove any bugs, and let them dry on a towel.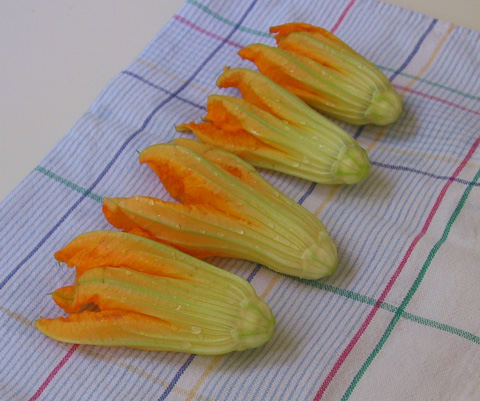 When the blossoms are dry, you can stuff them with all sorts of things: a slice of cheese; a cream cheese-herb mixture; chopped anchovies and cheese; ricotta and garlic — you name it. I think they are delicious plain.
Heat a heavy frying pan over medium and add some olive oil to coat the bottom of the pan. Pour a little milk into a bowl and and add a few spoonfuls of flour to a shallow pan or plate. Dip a blossom in milk to coat it and then dredge it in the flour.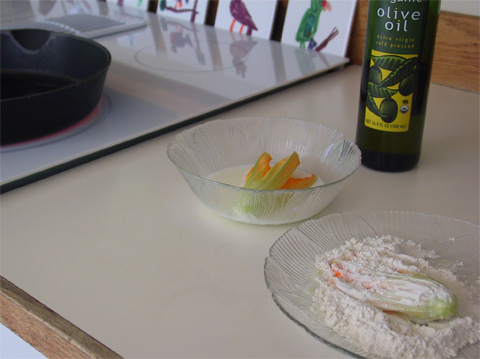 Add coated blossoms to frying pan and cook until they are browned and crispy on both sides, flipping them once, if possible. (The traditional Italian way of cooking squash blossoms is in olive oil. Just remember that it shouldn't be heated until it smokes. If you'd prefer to use butter, the blossoms will a taste little different.)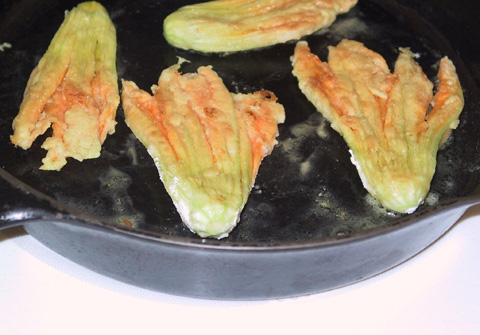 Fried squash blossoms can be enjoyed plain, topping salads, or as a sandwich filling!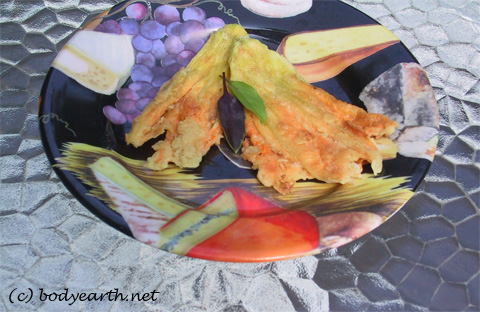 DON'T MISS FUTURE POSTS! Click below to subscribe for free updates delivered to your email or RSS feed: