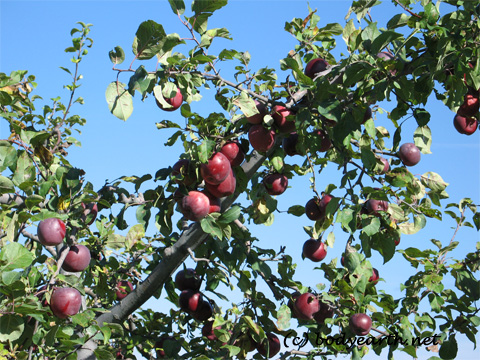 We went apple picking over the weekend!  I love apples in just about anything, but one of my favorites is a Dutch baby made with apples — aka German Apple Pancake.  It's a perfect breakfast food to wow your guests or please yourself.  I don't make it with any added sugar because the cooked apples are nice and sweet.  You can sweeten with maple syrup, honey or powdered sugar when you serve it.  And, it's easy as apple pancake.
German Apple Pancake
Preheat oven to 425° F.  Start by making the batter.  You will need:
1 cup organic whole milk
1 cup unbleached flour
4 eggs
Mix batter ingredients in a food processor or blender until smooth.  Let batter sit while you prepare the apples:
1/3 cup butter (I used Kerrygold.)
3 medium, organic apples
cinnamon
Peel, core and slice apples.  Heat a heavy skillet on medium and saute apple slices in the butter, sprinkling some cinnamon on top as they cook.  Let them soften for about 5 minutes.
Spread the apples over the bottom of the frying pan and slowly pour the batter over them. (If you don't have a cast iron pan, you can place a 9×12-inch Pyrex dish in the oven to heat it while you are sauteing the apples. Empty the cooked apples into the hot baking dish, spread them, and pour the batter on top.) Place the whole pan in the oven.  Cook for 20-25 minutes, until the edges puff up and turn slightly brown.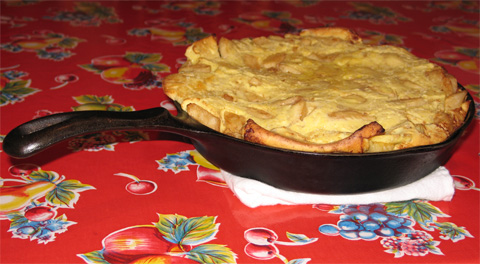 Slice into wedges to serve. I top mine with real maple syrup and a few squirts of lemon juice. Powdered sugar and whipped cream are good, too!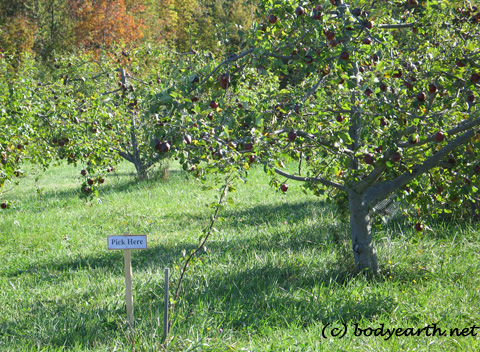 DON'T MISS FUTURE POSTS! Click below to subscribe for free updates delivered to your email or RSS feed: