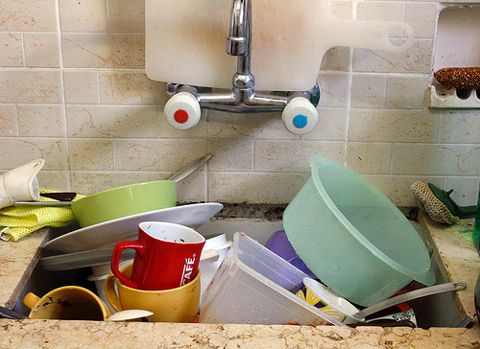 Looking for an easy, healthful dinner? This soup takes almost no time to throw together, but makes a delicious, colorful meal — and it's adaptable! 
First, take some of that homemade chicken stock out of the fridge or freezer.  If it's frozen, you might want to thaw it enough ahead of time to be able to pop it out of its container.  You can use a little or a lot of stock, depending on how much soup you want to make.  Heat stock in a big pot on the stove until it boils, then turn it down to simmer.
While the stock is heating,
1)  Chop any combination of the following: onion, carrot, celery, zucchini, mushrooms, garlic (my favorite), or any other vegetable.  Sauté chopped vegetables in a little butter until they are soft. I usually use one onion, a couple of carrots, two sticks of celery and garlic to taste. Again, you chose the vegetables and the amounts.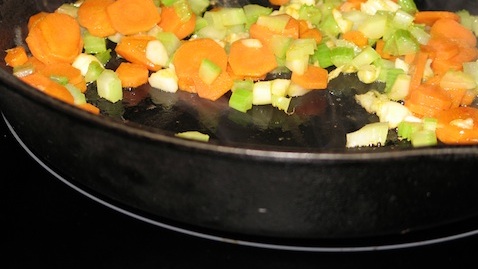 2) Add sautéed vegetable to the simmering stock.
3) Shred or chop some cooked chicken. If you don't have some left from another meal, you can always sauté little pieces in butter to cook, and then chop them up a little bit more. Add chicken to the broth.
4) Now you can get creative. We usually throw some chopped, roasted tomatoes and corn into the pot. You can also add leftover cooked rice, noodles, or barley.
5) Add sea salt and pepper to taste.
6) When you serve the soup, you can top it with anything that sounds good to you.  We usually use:
a squirt of lemon juice
hot sauce
chopped avocado
lots of shredded cheddar or Parmesan cheese
cilantro or parsley
This post is part of Tuesday Twister and Two for Tuesdays blog carnivals.
DON'T MISS FUTURE POSTS! Click below to subscribe for free updates delivered to your email or RSS feed:
Photo Credit:  miss pupik on flickr