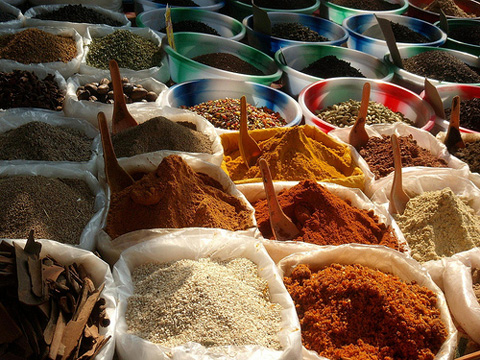 I've often started a meal in an Indian restaurant with savory Mulligatawny soup.  Last night I had a hankering for this hearty, spicy Anglo-Indian soup and decided to see if I could make it taste the way I think it should.  I'm pleased to say that, with a healthy dose of lime juice and chili powder, it was exactly what I was hoping for.  Don't be put off by the long list of ingredients; this soup cooks up fairly quickly.
Ingredients:
2 T coconut oil or ghee
6 cloves garlic, smashed and chopped
1 onion, diced
1 knob of ginger, grated — about 1 T
1/4 tsp. chili powder to start (You can add more later, to taste.)
2 tsp. ground cumin
1/4 tsp. ground cardamom
1/2 tsp. mustard seeds
1/4 tsp. ground cinnamon
1/4 tsp. ground cloves
2 tsp. ground coriander seeds
1 tsp. turmeric
6-8 cups chicken stock
1 apple, peeled and chopped
1 carrot, peeled and chopped
1 potato, peeled and chopped
1/2 cup raw cashews
1.5 cups red lentils, rinsed and drained
Juice of 3 limes, plus more limes for garnish
2 cups full-fat coconut milk, or 1 can
1-2 cups cooked, shredded chicken, optional
fresh cilantro, for garnish
high-quality salt, to taste
To Prepare:
In a large pot, saute the garlic, onion and ginger in the ghee or coconut oil on medium heat for a couple of minutes.  Add the rest of the spices, and continue to cook, stirring, until the onion is soft and the spices are toasted.  If the mixture becomes too dry, add a little more fat.
Add chicken stock, apple, carrot, potato, cashews and lentils, and bring soup to a boil.  Reduce heat, cover the pot, and allow soup to simmer for about 20 minutes, or until the vegetables and nuts are soft.
Blend soup well, either in batches in a blender or food processor, or using an immersion blender.  Return soup to the pot (if you've taken it out) and add the lime juice and coconut milk.  You can also add the chicken now, if you'd like.  Heat the soup well, add salt and more chili powder as needed, and it's ready to serve. Garnish with fresh cilantro.
I like to add an extra dash of lime juice and chili powder to my bowl!
This recipe was shared on Fight Back Friday, hosted by Food Renegade.
DON'T MISS FUTURE POSTS! Click below to subscribe for free updates delivered to your email or RSS feed:
Photo credit:  Sanitha Alam on flickr