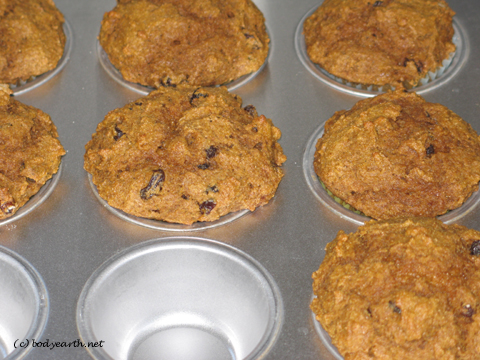 I'm always on the lookout for good school snacks for our seven-year-old. He's terribly embarrassed to eat anything unlike what the other kids bring. Muffins to the rescue! These ones are packed with nutritious butter and eggs and they use sprouted wheat flour.
Pumpkin Raisin Muffins
1 2/3 cups sprouted wheat flour
1 tsp. baking soda
1/4 tsp. aluminum-free baking powder
1 Tablespoon pumpkin pie spice (or a mixture of cinnamon, ginger and nutmeg)
3 large eggs
1 cup organic pumpkin puree

3/4 cup real maple syrup
1/2 cup butter, melted

1 cup organic raisins (Grapes are part of the dirty dozen.)
pinch of sea salt, if you'd like
In a large bowl, mix together the flour, raisins, baking soda, baking powder, spices and salt.  In another bowl, mix the eggs, pumpkin, melted butter and maple syrup.  Pour the wet ingredients over the dry ones, and stir just until blended.
Grease a muffin tin or use paper liners.  Spoon batter into the cups until they are nearly filled.  Bake muffins for about 25 minutes at 350ºF. The tops should spring back when they are done.  Cool on a rack.  Makes 10-12 muffins.

Why use sprouted wheat flour?
Sprouted wheat flour is made from wheat that has been soaked, sprouted, dried at low temperature and then ground into flour.  It has several advantages over both all-purpose (white) flour and whole wheat flour that hasn't germinated:
Through sprouting, the enzyme inhibitors naturally found in wheat are neutralized and new enzymes are produced, making the flour more easily digested.
Sprouting neutralizes phytic acid.  Phytic acid has been shown to block the absorption of calcium, magnesium, iron, copper, and zinc.
Carotene, vitamin C and vitamins B2, B5 and B6 are all increased through sprouting.
The carbohydrates in sprouted flour are partially converted from starches to sugars.
Sprouting inactivates carcinogenic grain aflatoxins.
White flour is stripped of its fiber and many nutrients.  It's an almost empty food.
I get my sprouted wheat flour from To Your Health Sprouted Flour Co., but I have also seen it at Whole Foods in the bulk bin.  It's expensive, so I use it to make special treats.  If you want to learn more about grinding your own flour, Cheeseslave posted directions written by Peggy Sutton, the owner of To Your Health.
This post is part of Fight Back Friday hosted by Food Renegade.  Check out all the great recipes, tips, and anecdotes.
DON'T MISS FUTURE POSTS! Click below to subscribe for free in a reader or via email:
Nourishing Traditions
, by Sally Fallon and Mary G. Enig, Ph.D.