Now that I'm on a soup kick, I thought I'd post one of my favorite ways to use healthful chicken stock, coconut milk, and coconut oil.  (Have you seen, Coconuts are Good for You?)  You can make your own chicken stock, roast or parboil tomatoes and bake sweet potatoes in preparation, or you can use boxed organic chicken broth, frozen or jarred tomatoes and canned organic sweet potato puree.
Senegalese Chicken Peanut Soup
(adapted from Emeril Lagasse's recipe)
Ingredients:
2 T. organic, unrefined coconut oil
1 medium onion, chopped
1-2 cloves of garlic, squashed and chopped
1 T curry powder
1 lb. roasted sweet potatoes, skinned and mashed OR 1 15-oz. can organic sweet potato puree
6-8 roasted or parboiled tomatoes, skinned and chopped OR 24-28 oz. canned, chopped organic tomatoes
1 15-oz. can whole, unsweetened coconut milk
1/2 cup crunchy natural peanut butter
1 quart chicken stock
1 to 1.5 lbs. cooked, shredded organic chicken
sea salt, pepper and cayenne (or other hot pepper) to taste
cilantro leaves
chopped peanuts
To Prepare,
In a large stockpot, saute the chopped onion in the coconut oil on medium heat for a few minutes.  Add the garlic and curry powder and cook, stirring, one more minute.  Add the chicken broth and bring to a boil.  Reduce heat to a simmer and add tomatoes, peanut butter, coconut milk and sweet potatoes.  Mix well, then allow to simmer for ten minutes, stirring occasionally.  Blend soup until it's smooth using an immersion blender or a counter-top blender (in batches).  Season soup with salt, pepper and hot pepper to taste.  Add the shredded chicken and simmer for about ten more minutes.  Garnish with cilantro and/or chopped peanuts.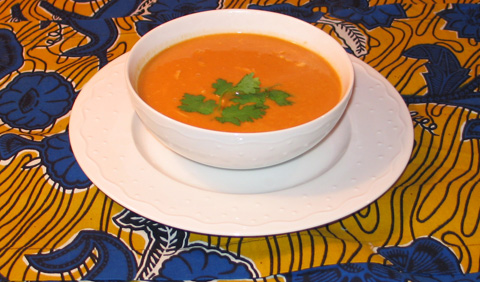 This post is part of Real Food Wednesday and Fight Back Friday blog carnivals.
DON'T MISS FUTURE POSTS! Click below to subscribe for free updates delivered to your email or RSS feed:
Photo Credit:  robin.elaine on flickr