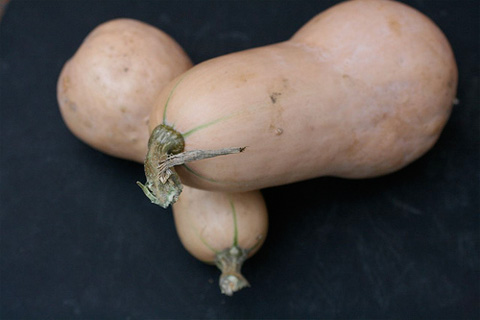 Soup Lady strikes again!  This roasted squash soup is perfect for nippy fall evenings.  Apple and curry powder lend a sweet taste to the roasted vegetable flavor.  I love to eat it with a big chunk of cheddar cheese and some whole grain buttered toast.
You'll need:
1 butternut squash, peeled and cut into smallish (2 inch) chunks
3 stalks of celery, cut into several pieces
2 onions, quartered
1- 2 cored apples, chopped into eighths
4 T plus 1 T butter
2 tsp. curry powder
6 cups chicken stock
sea salt to taste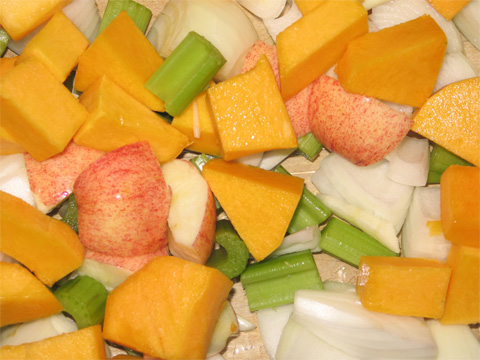 Preheat oven to 450° F.  Melt 4 T of the  butter and toss the squash, celery, onion and apple pieces in it until they are well coated.  Roast the vegetables in a shallow baking pan until they are soft, turning them if they start to burn.  When they are very soft, puree vegetables and apple in a food processor, until mixture is smooth.
In a soup pot, melt the remaining tablespoon of butter and roast the curry powder in it for about a minute, stirring constantly.  Add the chicken broth, turn heat to high and stir in the pureed vegetables.  When the soup comes to a boil, turn it down and let it simmer for ten minutes more.  Add sea salt to taste.  Crumbled bacon and fried sage leaves make excellent garnishes.
This recipe is being shared on Simple Lives Thursday.
DON'T MISS FUTURE POSTS! Click below to subscribe for free updates delivered to your email or RSS feed:
Photo Credit: thebittenword.com on flickr