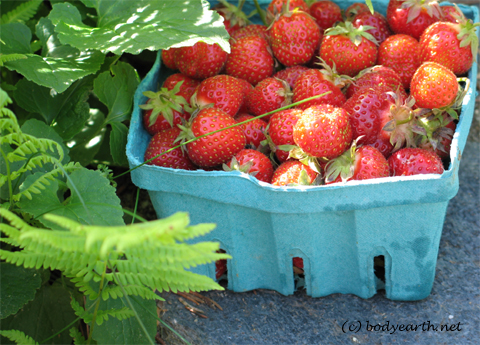 Introduction:
How can you go wrong with heavy cream, fresh-picked heirloom strawberries and organic dark chocolate?  Really?!  I'd had one of those days recently and I decided to make myself a little treat.  Luckily, we had just returned home from a local farm with the most delicious strawberries in existence.  I especially love the little sweet ones that smell so strong in the warm sun.  Eating them alone is ambrosia enough, but I was in the mood for some chocolate.  Since I almost always have chocolate and heavy cream on hand (staples), I was all set!
Materials and Methods:
You will need equal amounts of dark chocolate and heavy cream (never ultrapasteurized).  I used 1/2 cup of each, for the purposes of this experiment.
Sliced strawberries
Yet more cream — this time whipped.  You decide how much you'd like to be able to layer in the final parfait.
Slowly melt the chocolate chips or chunks in a heavy pot with an equal amount of cream, stirring constantly until it begins to bubble.  Remove pot from heat and allow resulting ganache to cool to room temperature.
While the ganache is cooling, whip some heavy cream.  I used about 1/2 cup.
When the ganache is cool enough, spoon half of it into a new bowl, reserving the rest.  Whip the ganache (in the bowl) until it becomes lighter and fluffy.  This will take a little while.
Spoon a layer of whipped ganache into a wine glass.  Top with a layer of sliced strawberries.  Cover strawberries with whipped heavy cream.  Drizzle ganache on top and garnish with a strawberry.
Results: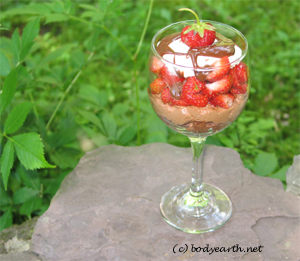 Discussion:
Yum.
This post is part of Real Food Wednesday hosted by Kelly the Kitchen Kop.
DON'T MISS FUTURE POSTS! Click below to subscribe for free updates delivered to your email or RSS feed: