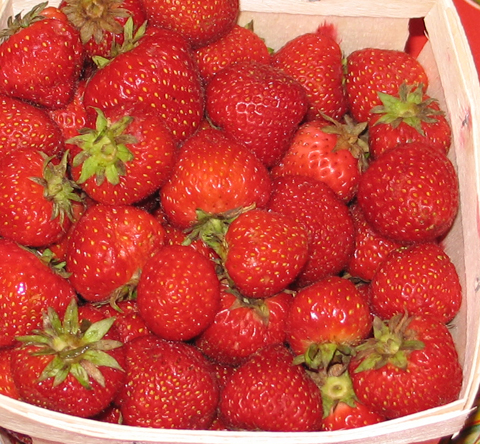 Here's a quick method for making strawberry — or any berry — shortcake.  It uses very little sugar, too.  What's neat about this recipe is that the biscuits are practically foolproof — no need to worry about over-beaten, tough cakes, because these ones are made with heavy cream instead of butter.  They'll be light and tender every time.  How can you go wrong with strawberries and cream? 
5-Ingredient Shortcake
You will need:
2 cups flour (I used white*, but you could substitute whole wheat or sprouted wheat)
1 T aluminum-free baking powder
2 – 2 1/2 cups heavy cream, divided (not ultra-pasteurized)
1 quart strawberries, sliced
2-3 T organic cane sugar* (optional)
To Prepare:
Preheat oven to 425ºF.  In a large bowl, sprinkle sugar over sliced strawberries, mix, and set bowl aside.  The sugar will pull the juice out of the berries, making them saucier

In a food processor, use the metal blade to combine the flour and baking powder.  Add  1 1/2 cups cream and mix until the dough forms a ball.  (If you choose to mix your batter in a large bowl, knead the dough ten times once the flour is incorporated.)
Pinch off a portions of dough and flatten them into discs.  Don't worry about having perfect shapes.  Place biscuits on a baking sheet lined with parchment paper.  I usually get about seven biscuits.
Bake biscuits for about 15 minutes, or until they are lightly browned.  While you are waiting for them to bake, whip the remaining heavy cream.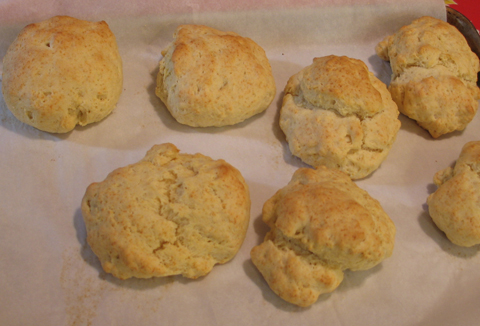 When the biscuits are cool enough to handle, slice each one in half and spoon some strawberries onto each half.  Top with whipped cream.
DON'T MISS FUTURE POSTS! Click below to subscribe for free updates delivered to your email or RSS feed:
I'd love to have you follow me on Twitter.
*A note about the ingredients:  I look for white flour that contains no malted barley extract.  Some experts feel that barley malt is added as a flavor enhancer that acts much the same way as MSG.  Read labels: Even many of the most "natural" flours contain additives.
I use organic sugar to be certain it's free of GMOs.  Sugar beets are now often genetically-modified.