This recipe is so easy and so good that we make it frequently.  It's a great dish for company because the sherry/crème fraîche combo is downright elegant!
Tarragon Chicken with Crème Fraîche
(adapted from Gourmet Magazine)
1 cup crème fraîche
1/2 cup dry cooking sherry
1/4  cup Dijon mustard
4 tsp. crushed, dried tarragon (use less if you have fresh tarragon)
black pepper
6-8 organic boneless, skinless chicken breasts cut in half
Mix together first five ingredients.  Pour mixture into a baking dish or Dutch oven.  (I use my Le Creuset Dutch oven).  Add pieces of chicken, coating each with the sauce.  Cover baking dish with its lid or foil and bake at 350°F for about 1/2 hour.  Remove the lid and keep cooking until the chicken is cooked through, another 15 minutes to 1/2 hour.   The sauce will be thin — perfect for pouring over the accompanying vegetables or rice.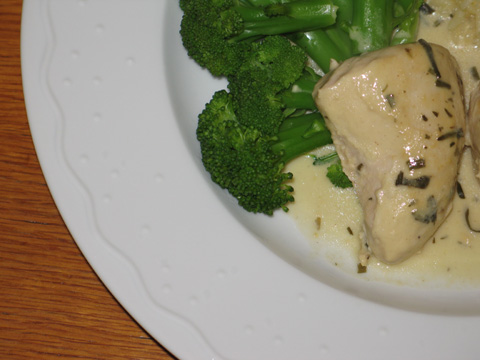 If we have any leftovers, I combine the rice, vegetable, sauce, and chicken (cut up a little bit) and reheat in a pot on the stove, stirring.
What is crème fraîche?
I  think of crème fraîche (French for "fresh cream") as lying somewhere between cream and sour cream.  It's cream cultured with bacteria until it thickens and sours a little.  It's not as sour as American sour cream.  Due to its consistency, it's perfect for adding to sauces, because it won't separate or curdle.  It's also absolutely delicious on the end of a strawberry.  Local Forage has a good recipe for making it at home.
This post is part of Fight Back Friday, hosted by Food Renegade.
DON'T MISS FUTURE POSTS! Click below to subscribe for free updates delivered to your email or RSS feed:
Source:
A version of this recipe was originally published by Gourmet Magazine, April, 1998.  It is called, "Baked Tarragon Chicken Thompson."