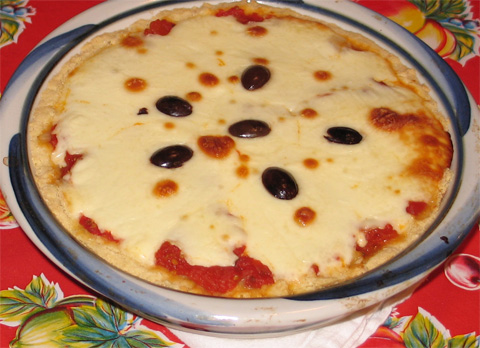 Tomato pie has been a family favorite for years.  If you simmer the tomatoes for a long time, they develop an almost-burned, complex flavor. The onions are caramelized to add a sweetness that complements the salty Parmesan cheese. You can make your favorite pie crust, too. This time I opted for a corn crust made with organic masa harina and butter, but I usually just make a wheat flour crust. Expect people to ask for seconds.
Ingredients for one pie:
1 pie crust, unbaked
2-3 lbs. ripe tomatoes, peeled and chopped, or 1 large jar or can whole tomatoes (28 oz.), chopped
4 T. butter, divided
2 cloves garlic, smashed and minced
black pepper and good-quality salt, to taste
several leaves of fresh basil, roughly chopped, or 1/2 tsp. dried basil
2 large onions, sliced thinly
1/3 cup grated Parmesan cheese
1/2 lb. whole milk mozzarella cheese, sliced in thin strips
Several cured black olives, sliced in half
Preparation:
Preheat oven to 375° F.  Prepare your pie crust of choice.*  Bake crust for 8-10 minutes and then remove it from the oven.  While the crust is baking, melt 1 T. of butter in a medium sauce pan and saute the garlic for a few minutes.  Add chopped tomatoes plus their juice, basil, and optional salt and pepper to the tomatoes.  (Canned tomatoes may already be quite salty.)  Simmer tomato sauce until it is thick, stirring occasionally.  You can still have some liquid left, but you don't want your pie to be too runny.  Well-cooked tomatoes taste great, too.
While the sauce is reducing, melt the remaining 3 T. of butter in a skillet and saute the onion slices, stirring frequently, until they are golden brown and sweet.
Spread Parmesan cheese over the bottom of the pie crust and then layer the onions on top of cheese.  Cover the onions with the reduced tomato sauce.  Place mozzarella slices over the sauce to cover the pie and arrange sliced olives on top.
Bake pie for about 35 minutes, until the mozzarella begins to brown and bubble.
*Note about my pie crust:  I experimented with organic masa harina
, (soaked, ground corn) and butter, but my crust was too crumbly, or I would have included the recipe.  Next time I will add an egg to bind it.
Recipe is based on one by Anna Thomas.
DON'T MISS FUTURE POSTS! Click below to subscribe for free updates delivered to your email or RSS feed:
I'd love to have you follow me on Twitter.