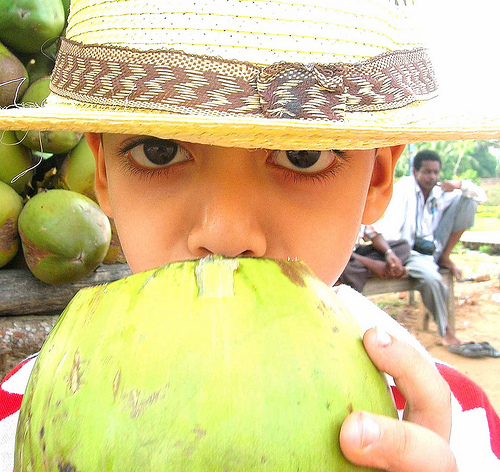 Lately, I've been trying to eat more coconut.  You may be surprised to learn that the fat in coconut is not an artery-clogging food, but rather one that's quite good for you.  Yes, coconut oil is mostly saturated.  It's a saturated fat that many cultures have consumed for thousands of years.  (Coconut oil got a bad name back when studies were done using hydrogenated coconut oil — oil that had been drastically altered from its natural state.)
According to  The Coconut Oil Miracle
, by Bruce Fife:
Heart Disease, stroke, and atherosclerosis account for nearly half of all the deaths in most developed countries.  Statistically, nearly one out of every two people you know will die from one of these cardiovascular conditions.  In contrast, those people throughout the world who eat the most coconut have the lowest rates of heart disease in the world.  For example, up until a few years ago the people of Sri Lanka used coconut oil in all their cooking.  Each person consumed the equivalent of 120 coconuts a year.  Despite their large coconut oil consumption heart disease is relatively rare.  Only one out of every 100,000 deaths was due to heart disease.
Bruce Fife goes on to say:
Coconut oil is heart healthy.  It does not negatively affect blood cholesterol, does not promote platelet stickiness that leads to blood clot formation, and does not collect in the arteries.  Coconut oil possesses anti-inflammatory, antimicrobial, and antioxidant properties, all of which protect arteries from atherosclerosis and from heart disease.  Those people who consume the most coconut oil have the lowest rates of heart disease.  This is true even for those populations who get as much as 50 percent of their daily calories from saturated fat, primarily from coconut oil.
Coconut oil has a long shelf-life and can be stored at room temperature.  It also has the added benefit of being stable at higher temperatures, which makes it an excellent oil for cooking.
Isn't Coconut Oil Fattening?
Interestingly, coconut oil is the least fattening of oils!  Not only is it metabolized differently (used directly for energy instead of being stored as fat), but it also stimulates metabolism.  People who replace other fats in their diets with coconut oil often notice weight loss.
Want to add more coconut to your diet?
Here are a few suggestions to get started:
Saute vegetables in coconut oil
Dissolve a spoonful of coconut oil in hot beverages, like hot cocoa
Make smoothies using coconut milk and fruit OR
Blend one or two tablespoons of coconut oil into smoothies
Substitute coconut milk for cow's milk in soups
Thanks to Wardeh over at GNOWFGLINS, I found the most delicious recipe for chocolate-coconut bark.  I eat some of this bark just about every day.  It must be eaten frozen, or it melts.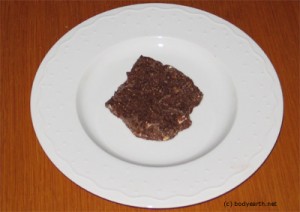 Chocolate Almond Coconut Bark
1 cup organic, unrefined virgin coconut oil
1/4 cup organic cocoa powder (unsweetened)

1/4 cup raw honey
2 teaspoons vanilla extract
1/2 cup toasted almonds*
1/2 cup  unsweetened, shredded coconut
Line a baking sheet with parchment paper.  Using a food processor, blend the first four ingredients until smooth.  Add the almonds and coconut and pulse until they are incorporated, but not too finely chopped.
Spread the mixture onto the parchment paper until desired thickness.  Place the baking sheet in the freezer (or outside, in cold climates!) until the bark freezes enough to break into pieces.  I usually break it just enough to wrap it in the parchment paper and place it inside a resealable container.  Store in the freezer.
Make Chocolate Peppermint Coconut Bark the same way as above, using these ingredients:
1 cup organic, unrefined virgin coconut oil
1/4 cup organic cocoa powder (unsweetened)

1/4 cup raw honey
1 teaspoon vanilla extract
2 teaspoons peppermint extract

1 cup  unsweetened, shredded coconut
*Traditional Foodies use "crispy almonds," which have been soaked and dried to get rid of the enzyme inhibitors found in nuts.  A good recipe for crispy nuts and the reason to eat them can be found here.
Update: This post is part of Real Food Wednesdays, hosted by Kelly the Kitchen Kop.
Resources:
Organic Virgin Coconut Oil
Eat Fat, Lose Fat: The Healthy Alternative to Trans Fats
, by Dr. Mary Enig and Sally Fallon
The Coconut Oil Miracle
, by Bruce Fife
DON'T MISS FUTURE POSTS! Click below to subscribe for free in a reader or via email:
Sources:
A New Look at Coconut Oil, by Mary Enig, PhD
The Coconut Oil Miracle
, by Bruce Fife
The Fat that Can Make You Thin, by Bruce Fife
Photo Credit: